It's been a tough past few days for altcoins, Chainlink (LINK) included. The price of the leading altcoin, based on Ethereum, has dropped 3.1% in the past 24 hours alone per CoinGecko market data.
To put that into context, Bitcoin has rallied in excess of 4% over that same time frame.
Stepping back, LINK's price action is even weirder. CoinGecko data indicates that the coin has dropped around 10% in the past week alone. Over that same time frame, BTC gained in excess of 7%.
Chainlink Poised to Fall Against Bitcoin
Analysts think that Chainlink (LINK) is poised to underperform BTC in the days and weeks ahead. This comes after the altcoin rallied seriously higher against Bitcoin over recent months due to it acting as somewhat of a bellwether for the DeFi market, leading the market up and down.
One crypto-asset trader recently shared the chart seen below. It shows that the leading altcoin is forming a number of bearish signals as it trades below two crucial moving average that held as support during the summer rally. The coin is also forming a pennant/triangle pattern that seems poised to break to the downside.
The trader that shared the chart expects a move lower of 25-30% in the price of LINK against Bitcoin.
This may not mean that Chainlink falls against the U.S. dollar, just that it falls relative to BTC's valuation.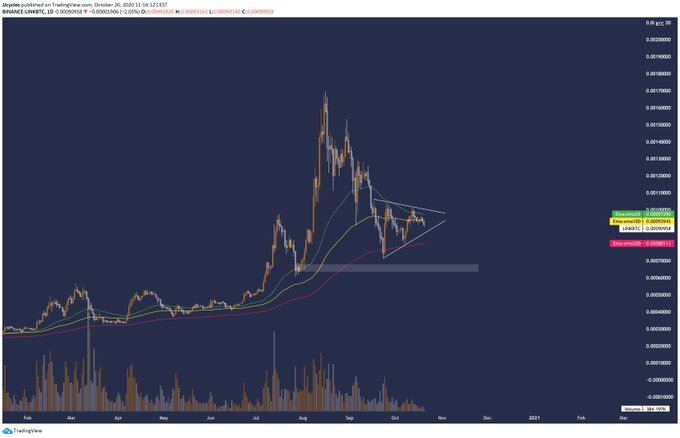 Chart of LINK's price action against the price action of bitcoin over the past few months with analysis by crypto trader JJ Cycles (@JJCycles on Twitter).
Source: LINKBTC on TradingView 
All Altcoins Set to Fall
All altcoins, Chainlink included, are set to fall further, analysts say.
Su Zhu, CIO and CEO of crypto and foreign exchange trading fund Three Arrows Capital, recently said:
"$BTC going up swiftly is not only not bullish for alts but it's bearish. reasons for this are myriad but boil down to the fact that money is a coordination game and Bitcoin is the Schelling point; this is independent of how you feel about it, community is literally irrelevant."
He added in a later comment that he thinks that capital from altcoins may stay mostly in Bitcoin until the coin distributes in the $40,000 to $70,000 region in the future.
Featured Image from Shutterstock
Price tags: linkbtc, linketh, linkusd,
Charts from TradingView.com
Chainlink (LINK) Poised to Plunge Against Bitcoin as Technical Setup Weakens