Chainlink (LINK) has gained 10% in the past 24 hours as Bitcoin has continued to hold in the $13,000 region. The popular altcoin currently trades for $12, its highest price in many weeks. The coin is currently the top-performer in the top 10 cryptocurrencies, outpacing Bitcoin's 1.5% gain, Ethereum's 5% surge, and the 1-3% performances by the other leading altcoins.
Analysts think that the cryptocurrency is poised to gain even further traction in the days ahead as fundamentals and technicals align.
LINK Is Preparing to Soar Even Higher, Technicals Show
Analysts think that LINK is set to continue even higher in the weeks ahead as it forms pivotal technical formations after an over 60% drop.
One crypto-asset analyst shared the chart below, which shows how LINK is breaking through a downtrend that formed at the August highs, which also were the coin's all-time high price.
Image Courtesy of Edward "Teddy" Cleps. Source: LINKUSD on TradingView.
Other analysts have echoed this assertion.
Another cryptocurrency trader shared the chart later amid LINK's push higher. The chart shows Chainlink moving above an important horizontal level at $12, which is setting the asset up for a push to at least $13.
"$LINK has emerged from the cloud of red. On to pasture new, and greener. I'm not looking for specific targets (aside from the near term retest of $11.50 and an upper resistance of $13) The green wave is what I'll ride."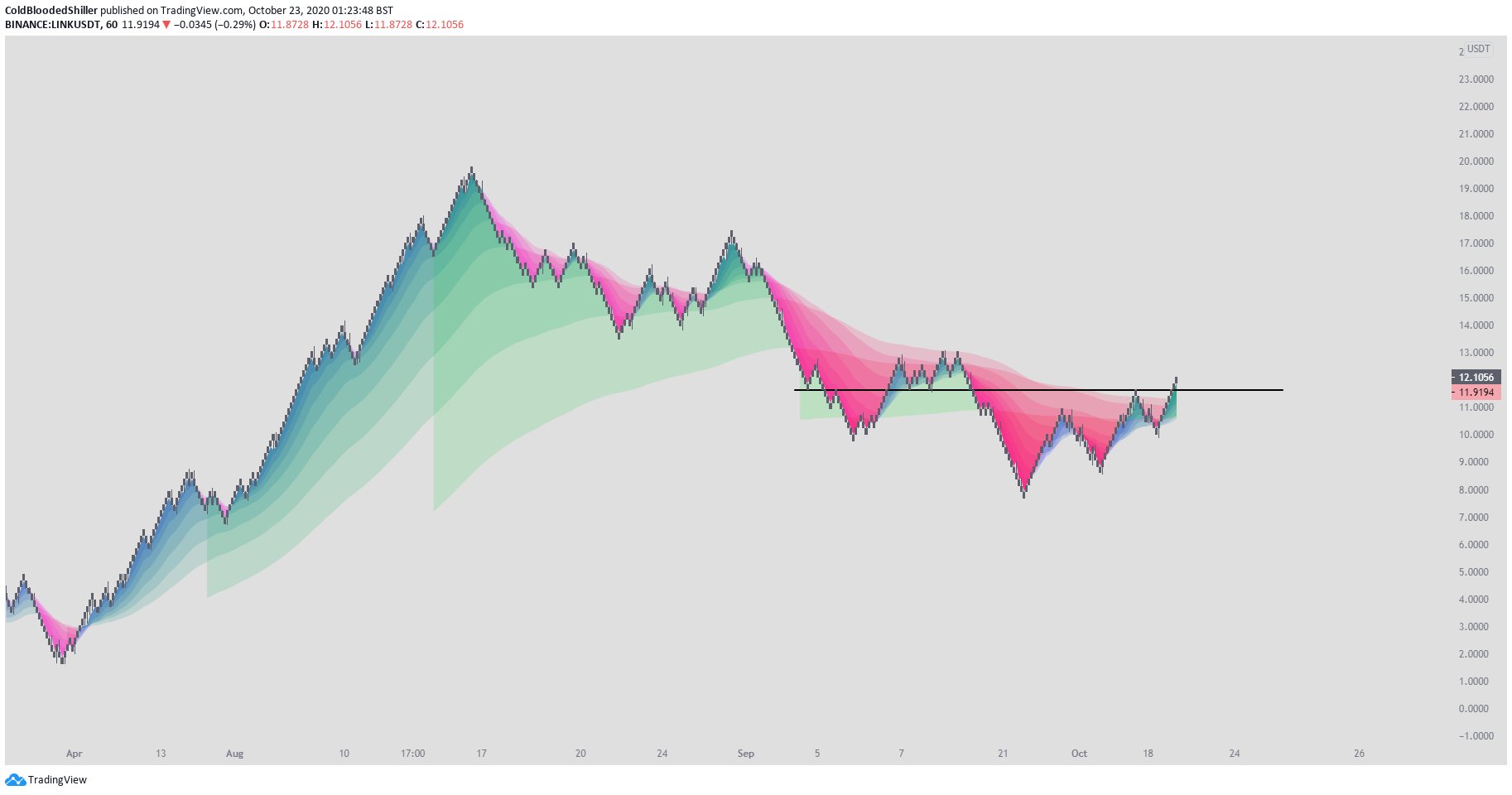 Image Courtesy of Cold Blooded Shiller. Source: LINKUSD on TradingView.
Chainlink is likely to follow the price of Bitcoin and Ethereum in the near term. If the two cryptocurrencies can push higher, LINK is highly likely to follow.
Chainlink Continues to Gain Traction
Chainlink continues to gain traction in the DeFi space, cementing its products as crucial for the cryptocurrency ecosystem.
The Ethereum-based PoolTogether just rolled out its v3 release. PoolTogether is a "no-loss lottery," where users pool their funds, which are then deployed in interest-generating activities.
This release includes an integration with Chainlink's VRF product, which enables blockchain applications to have verifiable randomization within contracts.
1/ Chainlink VRF has launched on the #Ethereum mainnet, providing users with a source of verifiable randomness directly on-chain. No-loss savings game @PoolTogether_ is live using #Chainlink VRF to securely & fairly select random winners in its v3 release.

— Chainlink – Official Channel (@chainlink) October 22, 2020
Chainlink has also announced a series of other integrations with leading products within the cryptocurrency space, including many DeFi projects.
Featured Image from Shutterstock
Price tags: linkbtc, linkusd, linketh
Charts from TradingView.com
Chainlink (LINK) Soars 10% Higher Amid Positive Fundamental Trends