While Bitcoin has seen strong volatility on a day-to-day and week-to-week basis, it is flat on a macro scale. The crypto-asset has basically traded in the same $3,000 range for five months now. This has allowed macro volatility indicators to subside to critical historical points.
Volatility analysis by one fund manager in the space suggests that when a breakout happens, it will be explosive. He thinks it will be so explosive, in fact, that Bitcoin could hit $20,000 in three months if it attempted to break higher now.
Next Bitcoin Breakout Likely to Be Explosive
Bitcoin's next macro breakout is likely to be explosive, according to an analysis by crypto fund manager Mohit Sorout. Sorout is a founding partner of Bitazu Capital.
He recently shared this chart below, which shows that on a macro basis, Bitcoin's volatility is extremely low. In fact, it's reaching lows seen rarely in BTC's history, with these levels only occurring approximately once a year.
This is neither bearish nor bullish in its own right.
However, if Bitcoin breaks higher, historical trends indicate that the responding move should be one that is explosive. Each rally and crash after volatility was this low historically was explosive: for one, prior to the crash from $6,500 to $3,200, Bitcoin macro volatility was this low.
This suggests that should BTC break higher here, it will rip higher to new year-to-date highs:
"Calm before the storm. If $BTC was to breakout today, it would most probably reach its previous ATH of $20k within 3 months."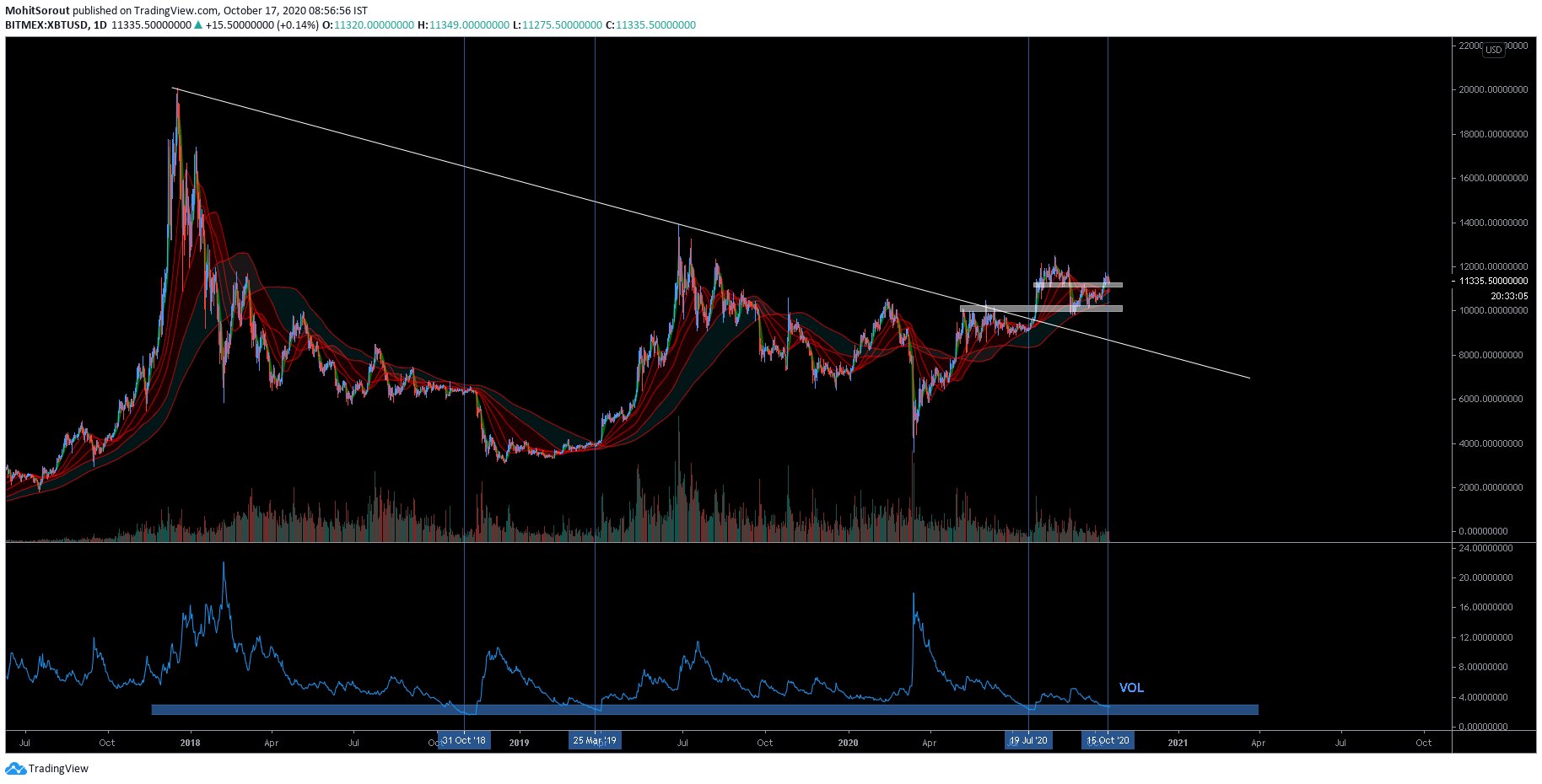 Chart of BTC's price action voer the past few years with a volatility analysis by crypto trader Mohit Sorout.
Source: BTCUSD from TradingView.com
Fundamental Analysts Agree
Fundamental analysts agree
Dan Tapiero — the co-founder of DTAP Capital, Gold Bullion International, and other companies — recently said that Bitcoin could rapidly surge higher in the years ahead:
"Tremendous long term Log Chart of #Bitcoin projects up 5-10x on this run. Just breaking up NOW. Should last a few years as 2.5yr consolidation is fantastic base for catapult up. Break of old highs will have explosive follow through. Time to sit and be patient."
This has been echoed by Vinny Lingham, CEO of Civic. He said that BTC could appreciate by 200% to 400% in the coming 12 months as macro trends align in BTC's favor.
Featured Image from Shutterstock
Price tags: xbtusd, btcusd, btcusdt
Charts from TradingView.com
Here's Why Bitcoin Breaking Higher Now Would Trigger a Massive Move