A report from Outlier Ventures analyzed key developments in the blockchain space over the past year. It showed that in 2020, Polkadot experienced the biggest upsurge in developer activity, at +44%, compared to any other platform.
In contrast, EOS suffered the biggest decline with a -86% drop in active development. This was followed by Bitcoin Cash (-63%), and Tron (-51%).
The authors of the report noted that 2020 sees a general decline in the number of active developers. This, they attribute to the on-going panic situation.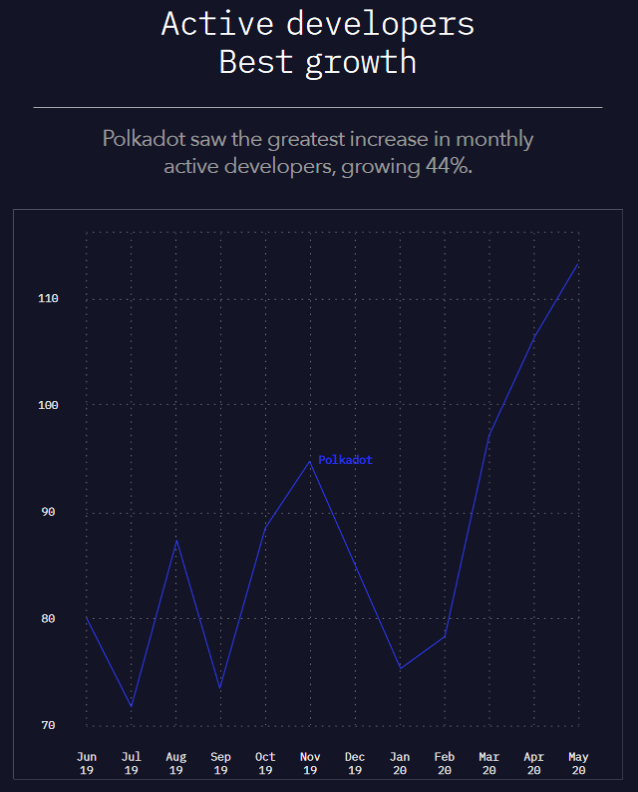 Source: outlierventures.io
Ethereum-Killer in The Making
In the race to launch ETH 2 Phase 0, the crypto community became very aware of just how difficult it is to build a new platform with the existing one in tow.
The latest news is that Phase 0 is on track for roll out within the next six to eight weeks.
Nonetheless, throughout this year, alternative smart contract platforms have been gaining ground. Polkadot, founded by Ethereum co-founder and Solidity inventor Gavin Wood, is one such offering.
Wood grew frustrated with the limitations and slow pace of development at Ethereum. As a result, he decided to set out on his own with Polkadot.
What sets Polkadot apart from the rest is its innovative spin on blockchain architecture. Polkadot uses heterogeneous sharding, with each parachain customizable through the development framework.
"All parachains connect to the relay chain, which validates the state transition of connected parachains, providing shared state across the entire ecosystem. If the Relay Chain must revert for any reason, then all of the parachains would also revert. This is to ensure that the validity of the entire system can persist, and no individual part is corruptible."
As such, rather than running dapps through smart contracts on the mainchain, dapp developers on Polkadot can create their own interoperable blockchains. This allows developers to optimize for specific use cases, also, giving them more flexibility to set custom parameters, such as transaction fees.
With that, Wood spoke about how parachains are going to revolutionize the space:
"We are going to see a lot of different innovative products that can't exist in a smart contract environment… Game blockchains, ensuring gamers don't cheat. Blockchains within consortia. They are difficult to deploy in a smart contract environment."
Developers See The Benefits of Building on Polkadot
As illustrated by the jump in active developers this year, the benefits of parachains have not gone unnoticed.
At present, there are 267 different projects listed on PolkaProject. The scope of projects include gaming, crypto wallets, tokens, oracles, and DEXs, to name a few.
Polkadot's surprise addition in the top ten last month seemingly came from nowhere. But, given its progress in building infrastructure, some would argue it was long overdue.
In July, the Polkadot community voted to redenominate the DOT token 1:100. Following that, the supply of DOT increased one-hundred fold, but equally, the price of DOT was revalued 100 times less.
Since DOT's listing on Binance in mid-August, DOT has jumped 31%. It currently ranks 8th biggest by market cap, with Cardano close behind.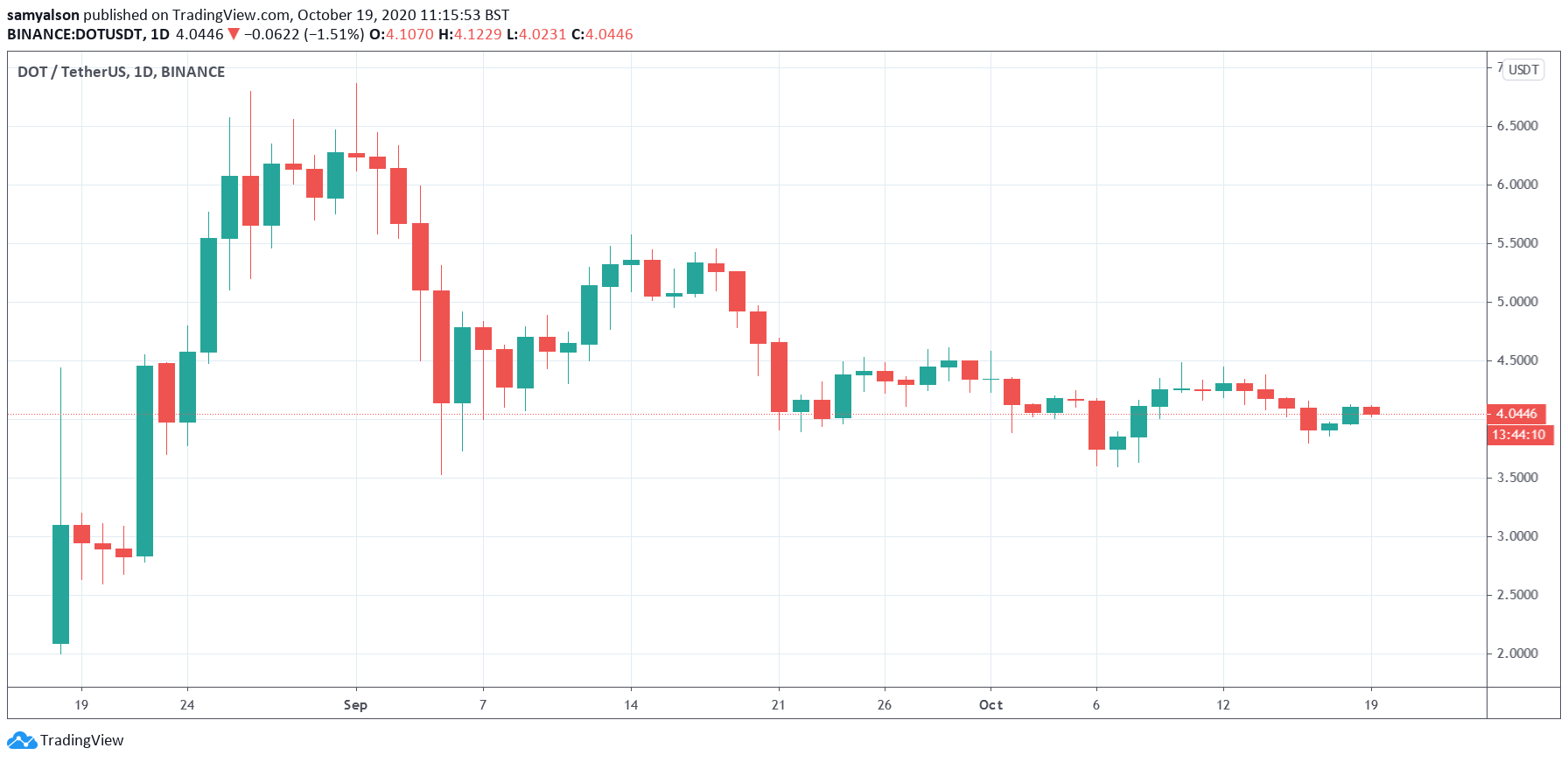 Source: DOTUSDT on TradingView.com