The decentralized finance (DeFi) market is slumping as large-cap tokens like Uniswap (UNI), Yearn.finance (YFI), and Maker (MKR) decline. Atop the lackluster performance of major tokens, the volume of the Uniswap decentralized exchange has substantially dropped.
On September 1, when Uniswap surpassed Coinbase Pro in daily volume, it processed $953.59 million of volume in 24 hours.
Since then, the daily volume of the decentralized exchange has consistently dropped. On October 19, Uniswap processed $161.6 million worth of volume, marking an 83% drop since its peak.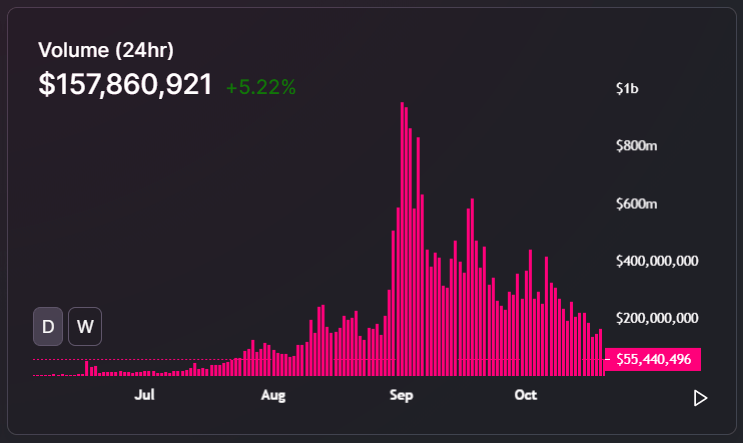 The volume of Uniswap since June. Source: Uniswap.info
DeFi Trading Activity Drops on Uniswap as Marketwide Slump Materializes
From June to early September, the DeFi market saw a spike in genuine market demand and user activity.
The launch of COMP and YFI kickstarted a new DeFi cycle dominated by yield farming, which gained significant popularity.
But, as low-quality forks and extreme-risk projects began to surface, the interest in DeFi dwindled. As market analyst Ceteris Paribus explains:
"Looking back on the DeFi cycle, think it's important to remember that it started before 1,000% apy's with legacy defi tokens getting the bid. Can be easy to remember the blow off top phase at the end but the trend was real and started without the three F's (farms, forks, food)."
Naturally, as the craze around DeFi began to cool off, the daily volume of Uniswap and other decentralized exchanges dropped.
As such, the daily volume of Uniswap has continuously dropped since September, when the DeFi blow-off top occurred.
When Would the Market Recover?
Both DeFi tokens and altcoins, in general, are in a precarious position. Bitcoin has been rallying exclusively on its own, outperforming the rest of the market.
Typically, when Bitcoin decouples from the altcoin market, it causes altcoins to stagnate while BTC increases.
The trend is concerning for DeFi tokens because if BTC and Ethereum see a near-term correction, it would place more pressure on the DeFi market.
Some analysts believe that a new DeFi cycle would have to emerge for decentralized exchanges to see August levels.
But, there is a variable that could spark newfound demand for decentralized exchanges, including Uniswap, over time.
In recent weeks, as NewsBTC reported, exchange FUD has dominated the market. The BitMEX probe and OKEx withdrawal suspension caused the entire market to pull back.
The uncertainty around major centralized exchanges could cause the demand for Uniswap and decentralized exchanges to grow.
Albeit decentralized exchanges could be more complicated to use they involve non-custodial wallets, like Metamask, among long-time cryptocurrency users, it could make Uniswap more compelling.
Uniswap has also significantly outperformed rivals, such as SushiSwap, after it launched its governance token UNI.
"SushiSwap's TVL and volumes dropped further once Uniswap launched its $UNI token, eliminating one of SushiSwap's core value props At the end of the quarter, SushiSwap was doing less than than 15% of Uniswap volumes," researchers at Messari wrote.
The 4-hour chart of Uniswap (UNI). Source: UNIUSDT on TradingView.com