Yearn.finance's YFI governance token has seen a strong rebound over the past 24 hours. Its price had previously been facing an unrelenting selloff that drove it down towards $13,000, but it has since formed a "v-shaped" recovery.
The intensity of the rally seen over the past day has come about due to news of a major crypto fund reportedly investing $5 million into YFI, acquiring this position over the past few days.
That being said, one investor is noting that this position on its own doesn't provide much insight into their conviction on the ecosystem's outlook, as it represents only a small portion of their overall AUM.
The same investor is now noting that YFI is caught within a vicious cycle pushing its value down.
He notes that breaking this cycle is imperative for Yearn.finance yields to rebound and for YFI's price to incur another strong uptrend.
Yearn.finance (YFI) Garners Large Investment from Polychain
Earlier today, investors in YFI saw a major sentiment boost due to the entrance of a large active crypto fund into the Yearn.finance ecosystem.
Per reports, Polychain invested roughly $5 million into YFI token, acquiring 329 tokens in total.
Jason Choi from The Spartan Group spoke about this investment in a recent tweet. He explains that although it is significant, it is important to consider it in terms of Polychain's AUM before making assumptions about their conviction in the project.
"Polychain allegedly just took a $5M position in YFI. While I'm long term bullish and see this as validation, blindly copy trading funds is a bad idea. Investment alone does not indicate conviction; size relative to AUM does. 0.05% vs 5% tell very different stories."
Here's the Vicious Cycle That is Driving YFI Lower
Choi further went on the explain that the Yearn.finance ecosystem and YFI will likely see a continued exodus of value until it can break the cycle of collapsing APYs on yields creating less value capture for YFI.
"In the short term we still need to break this cycle: Collapsing APY -> TVL drain -> less fees -> less value capture by YFI. This will likely continue unless yields return and/or yearn strategies diversify beyond reliance on yCRV vault/ yield farming alone."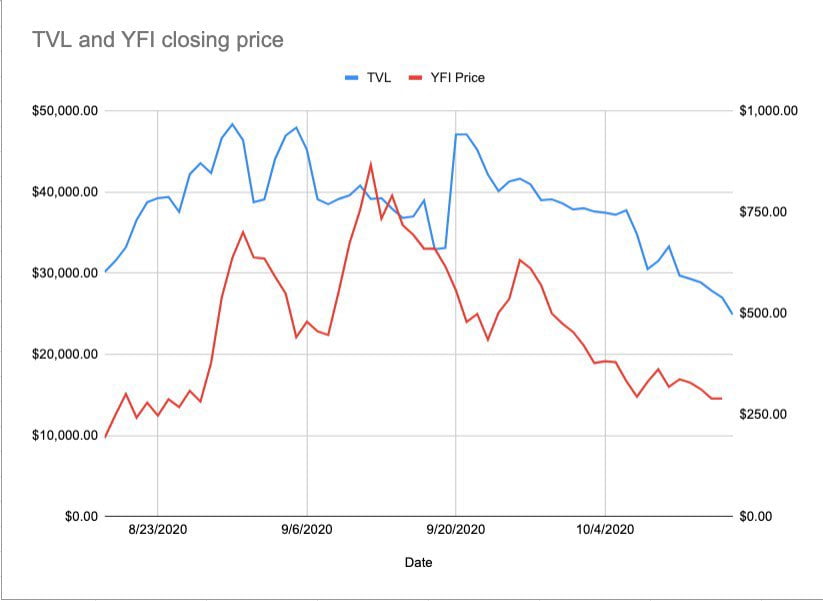 Image Courtesy of Jason Choi.
Until this cycle changes via a new strategy being implemented, YFI's price may continue sliding lower.
Featured image from Unsplash.
Charts from TradingView.