Beam, the crypto project utilizing privacy tech, has announced the imminent launch of a confidential defi network called BeamX. Almost two years on from its mainnet launch, the privacy coin is moving into the defi sector to enable the creation of dApps that are user-friendly and privacy-centric, citing flaws inherent in the Ethereum ecosystem.
Scheduled to launch on November 19, BeamX will support applications such as decentralized exchanges (DEXes) and automated market makers (AMMs), as well as defi staples like stablecoins, lending protocols, wrapped assets and NFTs.
BeamX will also tap into tools already available via its ecosystem, including Atomic Swaps and Confidential Assets (CAs). The latter benefit from privacy features such as the ability to unlink transaction history, with users able to transfer assets using non-interactive transactions. Beam's confidential mechanisms don't end with cryptocurrencies – multiple asset types, including corporate debts, are supported.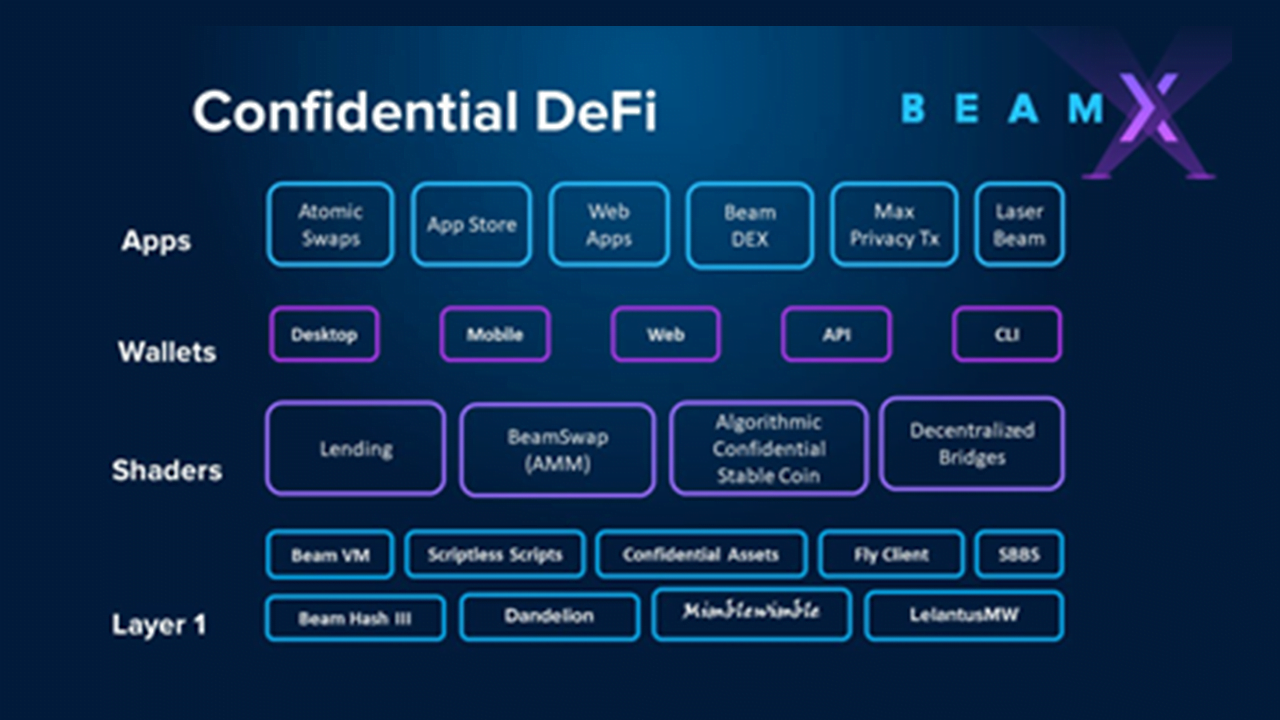 When Privacy Meets Financial Inclusion
The BeamX announcement has not come out of the blue; back in June, the blockchain completed its second hard fork and broadcast its desire to "enable true private and decentralized defi instruments like private stablecoins and private synthetics which will track commodity, stocks and ETFs."
A month later, the company published a Medium post introducing the world to the concept of Confidential Defi based on building blocks such as Scriptless Contracts, Confidential Assets and oracles.
The unveiling of BeamX coincides with the project's participation in the world's biggest university hackathon, Encode Hack Club, which will also feature Polkadot and Binance. According to a Beam blog, the project's involvement is a chance to increase the number of developers experimenting with BeamX.
While Ethereum-based defi platforms enable users to interact with open finance protocols for the purposes of borrowing, lending and trading, the dream of financial inclusion comes with a tradeoff given Ethereum's public chain. Data, in other words, is public by default. Not that this drawback has hindered defi's popularity: crypto exchange trading volumes rose by $155 billion between July and September, largely as a consequence of defi activity.
As a privacy-focused defi project backed by an established team, BeamX will give developers the opportunity to build dApps that preserve the confidentiality of users' operations and assets. Needless to say, defi applications built on BeamX DeFi will be compatible with Beam wallets.
A Proliferation of Privacy Tools
Beam is not the only project looking to bring privacy to defi. Earlier this year, the Incognito privacy project unveiled pKyber, which enables users to conceal their activity from the public Ethereum ledger within the Kyber Network. Better still, any Ethereum-based dApp can integrate pKyber to obfuscate their ability from the public ledger.
Another privacy-centric project, Enigma, has developed the concept of "programmable privacy," which allows for privacy to be baked into any smart contract. Enigma's Secret Network relies on so-called Secret Tokens, ERC20-like assets whose balances are encrypted.
If projects like BeamX, pKyber and Enigma, succeed, they could push defi into a new stratosphere, assuaging the concerns of institutional users who want to keep their balance statement confidential. While defi is already motoring, the introduction of privacy guarantees could be like adding rocket fuel to the fire.