All eyes are on Chainlink (LINK) as the altcoin market resumes its recovery. The price of the leading cryptocurrency has gained 25% in the past week, reclaiming the $13 support as buyers have flooded back in.
Chainlink is primed to move higher in the weeks ahead, analysts say. They cite positive fundamental trends and technical formations on the chart.
Chainlink Forms Bullish Pattern
Analysts are optimistic about Chainlink as the cryptocurrency forms a short-term uptrend after plunging last week in tandem with other altcoins.
One crypto-asset trader shared the chart seen below on November 11th. It shows that LINK is in the midst of forming an ascending triangle on a short-term time frame. An ascending triangle is a bullish chart pattern that is often seen in the midst of uptrends. They often break higher after the asset taps the upper resistance consecutively.
Should LINK follow conventional technical analysis rules, it is likely to move toward $15 once the ascending triangle breaks.
There are other signs indicating that altcoins are going to move higher in the days ahead. A crypto-asset analyst recently noted that with Uniswap's liquidity mining period ending, there will be an influx of ETH that will be entering the market. It is believed that there will be a $1.1 billion injection of ETH into the market.
While there may be some holders of those coins, some think that Ethereum could be sold for altcoins. Chainlink, being one of the most popular altcoins, could get some of those inflows.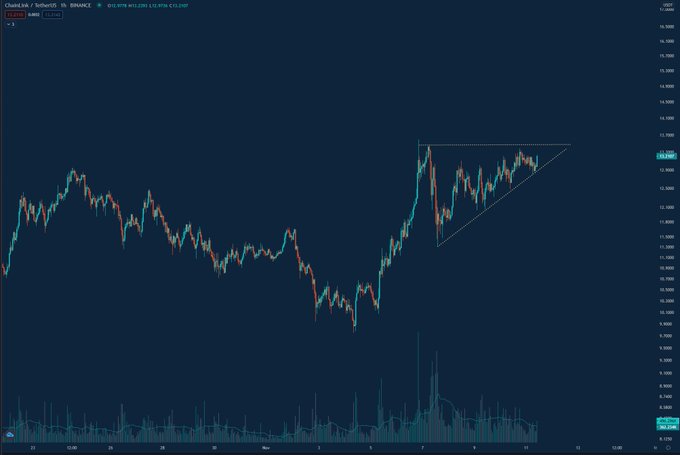 Chart of LINK's price action over the past few weeks with analysis by crypto trader Impermanent Capital (LedgerStatus on Twitter).
Source: LINKUSD from TradingView.com
Bullish Fundamentals
The fundamentals for Chainlink are bullish. According to Santiment, a leading crypto-asset and blockchain analytics firm, recently stated:
"The development activity of $LINK has been rising, according to the #github data we track. Generally, when projects have an increase in their team's true dev. rate as #Chainlink has, it's a positive sign for the asset's sustainability & longevity."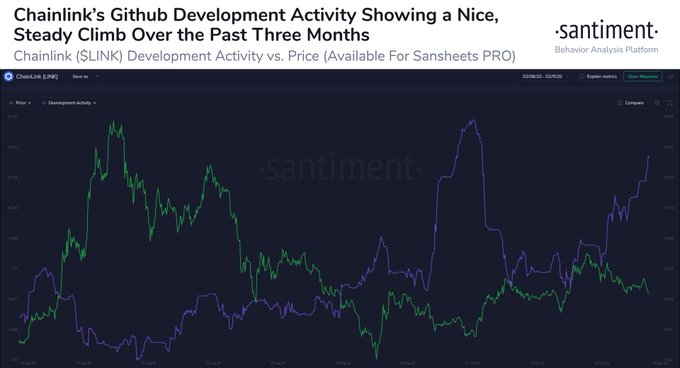 The increased amount of development activity suggests that there may be an increase in the level of utility of LINK that could thereby drive its price to the upside.
Not to mention, Chainlink has announced a series of partnerships that should drive increased usage. A new DeFi protocol, for instance, just announced that it has integrated Chainlink oracles, as did many other protocols in the Ethereum ecosystem.
Featured Image from Shutterstock
Price tags: linkusd, linkbtc, 
Charts from TradingView.com
Chainlink Forms Crucial Ascending Triangle as Analysts Eye Move to $15