The crypto community was stunned last night to learn of a minting exploit that had collapsed the value of Axion.
On November 2, 2020, during the 1:1 Axion for Hex airdrop, an attacker minted and sold 79 billion AXN tokens, crashing the price from $0.00036673 to zero as a result.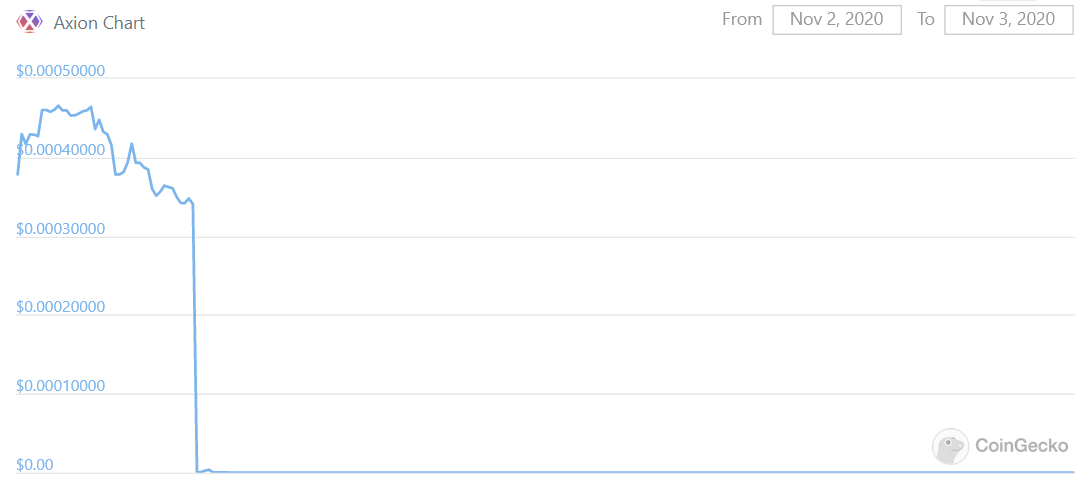 Source: AXNUSD on CoinGecko.com
The Axion team tweeted, "we are still here," and working on getting operations up and running again. What's more, the team stated that users will receive credit for losses.
We're still here.

All the AXN/HEX2T people were holding at the time of the exploit will be credited.

We will launch a liquidity reward portal to build the liquidity back up as well.

We are working hard to relaunch AXN as soon as possible.

— Axion (@axion_network) November 2, 2020
While exploits in crypto are commonplace, the fallout from this has revealed a string of controversies. This includes accusations of fake code audits leading to a theory that the exploit was an inside job.
Axion Claims to be Better Than Bitcoin
The Axion whitepaper borrows heavily from Bitcoin's reason for being – a solution to economic turmoil.
Axion bills itself as better than Bitcoin in that it's cheaper and faster. But crucially, unlike Bitcoin, Axion generates passive crypto income directly.
"Axion is a decentralized Certificate of Deposit (CD) system, operating similarly to the same financial instruments provided by banks while cutting out the middleman. Axion generates interest directly to the network participants through fixed inflation."
However, due to its ties with divisive token Hex, which some have likened to Bitconnect, Axion was always fighting an uphill battle regarding its legitimacy as a crypto project. On that note, Axion claims no official affiliation with Hex.
Not only do the founders claim Axion is a better Bitcoin, but they also claim it's better than Hex as well. They intend to migrate Hex users to the new platform by offering superior gains as a lure.
"The fundamentals behind Axion are meant to create a unique product for the community and flip users from the original Hex to Axion so that they can grow their finances even faster than before."
This includes staking rewards at 8%, double that of Hex, with all staking inflation paid to stakers. Also, daily auctions to win prizes from the auction pool.
Crypto Community Lashes Out Over Price Collapse
As the crypto community dissects what happened with Axion, accusations of foul play come thick and fast.
Axion's connection with Hex has not helped the matter. One user attributes the exploit to fake audits that never took place.
This was strenuously denied by the Axion team, who claim both audit firms conducted their work appropriately.
The audits are both live on the website, and both audit firms confirm that they performed them.

— Axion (@axion_network) November 2, 2020
In response, the CertiK Foundation, one of the Axion auditors, deflects the accusation by saying the exploit happened due to the last minute tampering of code by the development team. Their statement read:
"The Axion $AXN exploit was added to their smart contract after the audits were completed, suggesting an inside job. Over 1300 #ETH was stolen."
Russia-based Rock'N'Block is responsible for the development of Axion. So far, they have not responded to the claims.