Although Bitcoin has dominated the headlines of late, Ethereum has also rallied hard. Since the beginning of October, the second-biggest cryptocurrency by market cap is up 32% to $457 at the time of writing.
What's more, unlike Bitcoin, sustainable fundamental factors, i.e. improvements to the Ethereum blockchain, seem to be behind the buying spree.
Alex Saunders of Nugget's News noted that Ethereum's weekly close yesterday was the highest since July 2018.
He attributes this with progress on Ethereum 2.0, in particular with Ether staking coming on line. And with a lack of resistance, on the higher weekly time frame at least, the upside potential from here on out is huge.
Highest $ETH weekly close since July 2018. Blue skies ahead! ☀️📈🚀 #ETH2 #DeFi #Staking pic.twitter.com/DE2C74mpOk

— Alex Saunders 🇦🇺👨‍🔬 (@AlexSaundersAU) November 9, 2020
However, despite the progress made on ETH 2.0, a lack of interest in Ether staking indicates possible trouble ahead for Ethereum.
Ethereum 2.0 Finally Drops Roll-Out Date
Following months of failed testnets and speculative dates, the Ethereum Foundation finally dropped December 1 as the confirmed roll-out date.
For this to happen, a week before December 1, the mainnet deposit contract address must receive 32-ETH deposits from 16,384 or more validators. Or 524,288 Ether in total.
Otherwise, the Phase 0 roll-out will get delayed for another week.
"To trigger genesis at this time, there must be at least 16384 32-ETH validator deposits 7 days prior to December 1. If not, genesis will be triggered 7 days after this threshold has been met (whenever that may be)."
Doing his part to launch on time, Ethereum Co-founder Vitalik Buterin sent 3,200 Ether, worth approximately $1.5 million, to the mainnet deposit address.
Vitalik Buterin transfers 3,200 Ether to ETH 2.0 deposit contract ahead of mainnet launch – https://t.co/KTWiylouWK pic.twitter.com/giX1k8LWBY

— Forex Crunch (@forexcrunch) November 7, 2020
Nonetheless, an analysis of the mainnet contract address shows a distinct lack of interest from Ethereum holders.
Currently, 49,377 Ether has been sent to the mainnet deposit contract. This is less than 10% of the required threshold amount. With less than two and a half weeks to go before the deadline date, the possibility of a week-long delay is high.

Source: etherscan.io
Out of Touch Staking Criteria Puts Investors Off
Staking 32-Ether, or approximately $15k, is a big ask for most investors. Especially so considering the low barrier to entry for other blockchain projects.
With Cardano, it's possible to stake just 1 ADA, or $0.10, as long as there is enough ADA in the wallet to pay the (inexpensive) staking fee.
The story is much the same with Zilliqa, who asks for a minimum staking amount of 10 ZIL, or $0.18. Plus, in a nod to DeFi mechanics, stakers get to earn the Zilliqa GZIL governance token on top.
What's more, staking Ether during the Phase 0 stage means locking up those Ether until Phase 1.5 launches. While there is no definitive date on when that would be, it's likely to be more than two years away.
"once the beacon chain is live, you'll be able to stake your real ETH. However, staking in Phase 0 is a one-way transaction. You won't be able to withdraw your ETH until the current chain becomes a shard of Eth2 in Phase 1.5."
With all of these factors in mind, it's no surprise that Ether staking deposits have been low. The question is, how will this affect the price of Ethereum going forward?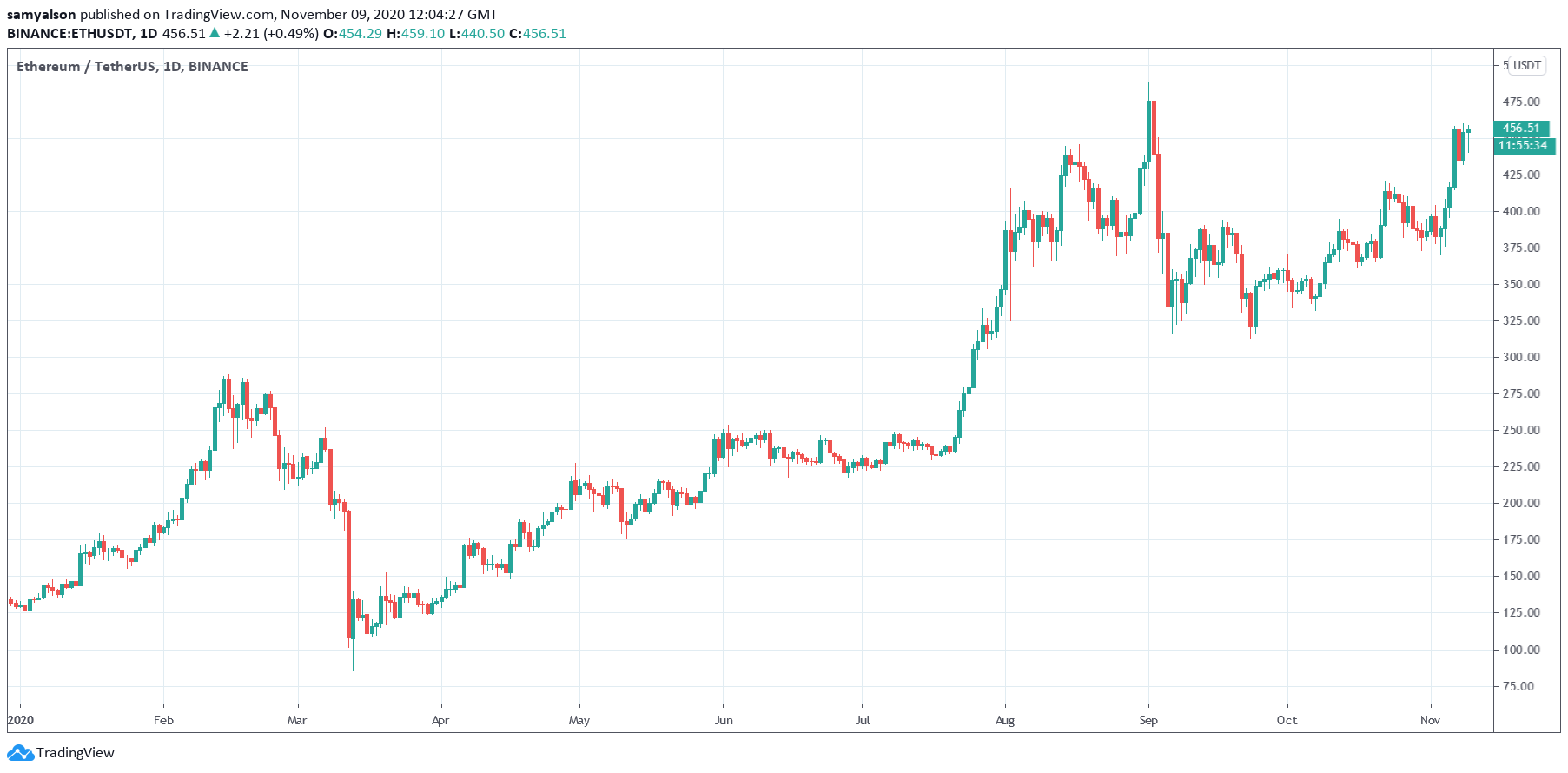 Source: ETHUSDT on TradingView.com