Bitcoin has undergone a strong rally over the past few weeks, pushing as high as $16,500. Analysts are starting to fear that a correction is due, though.
One crypto-asset analyst recently shared a fractal showing that the cryptocurrency is trading in a remarkably similar way to how it did during the 2017 highs at $20,000. This fractal analysis predicts that a drop to $14,000 will take place in the weeks ahead.
This Fractal Predicts a Bitcoin Correction Is Due
The crypto-asset analyst that predicted Bitcoin would drop to $9,800 in September is now suggesting that another retracement might be due.
The chart shows that Bitcoin's recent price action looks extremely similar to how it looked at the $20,000 all-time high. This correction could take Bitcoin toward $14,000, the chart shows, if the fractal plays out to a T.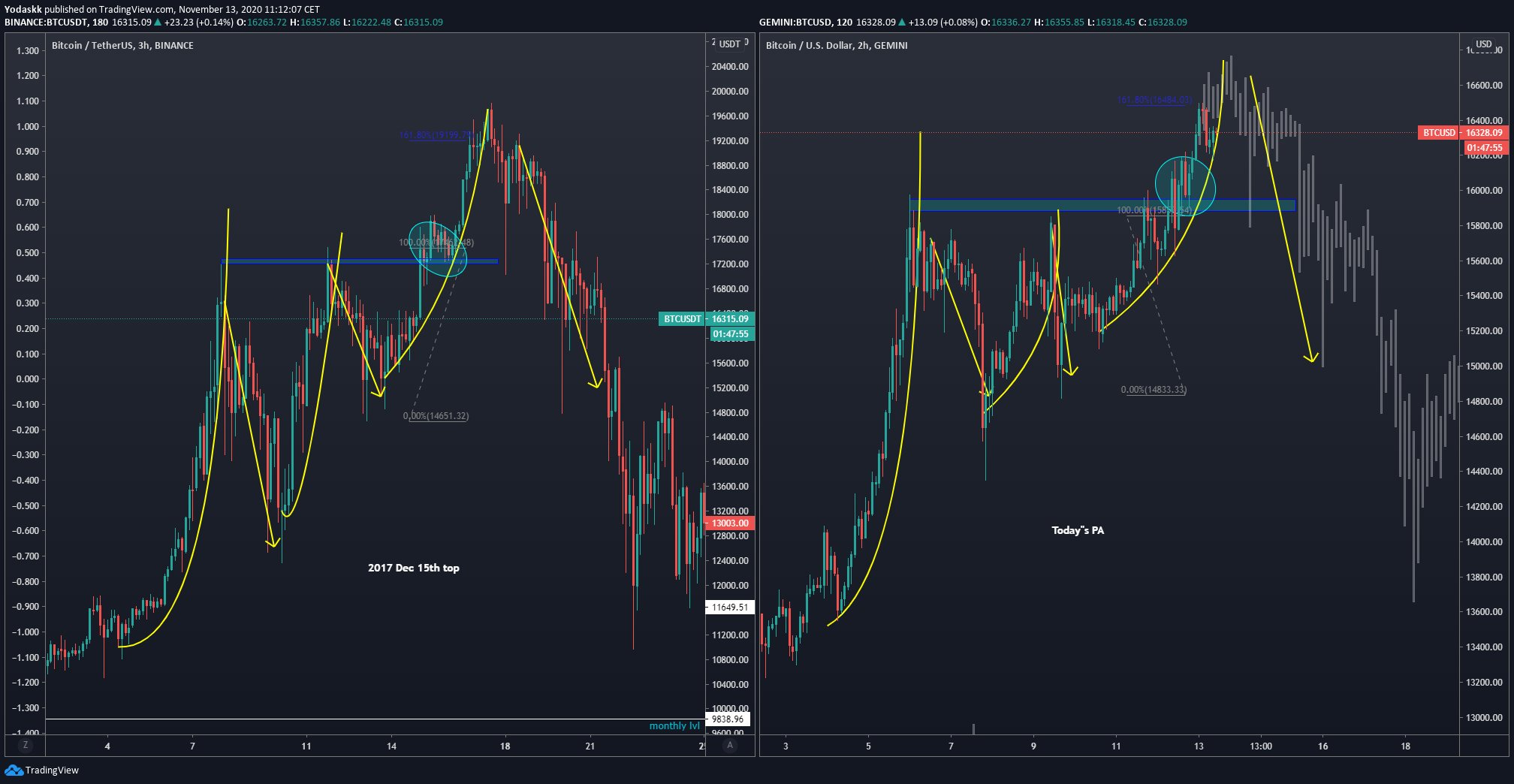 Chart of BTC's price action over the past few weeks with a fractal analysis to the 2017 blow-off top that took Bitcoin to $20,000. Chart by crypto analyst Coiner-Yadox (@yodaskk on Twitter).
Source: BTCUSD from TradingView.com
Another trader also thinks that a correction is due. He recently said on the matter:
"Almost forgot my chart today, was a little busy IRL but a challenge is a challenge. I think going into the wknd you should be very cautious with getting caught long especially with equities being bearish. Don't see much other than we might have topped. I am flat. I'm a bit groggy but topped on LFT, I would be skewed to taking majority shorts above 16.3k until we open and close monday above this level."
A New All-Time High May Come Soon
While Bitcoin may face a short-term drop, key investors in the space still believe the cryptocurrency will hit a new all-time high before 2020 is over.
For one, Tyler Winklevoss, CEO of Gemini and a Bitcoin billionaire, was recently quoted as saying on Twitter:
"I do think we will see an all-time-high price for #Bitcoin before 2020 is over. Even though the price has climbed from 10k to almost 14k in less than a month, it hasn't really gone on a breakout run yet. When we start to see 3-5k surges then the bulls will be on the run."
This optimism has been echoed by Raoul Pal, CEO of Real Vision and a former hedge fund manager. Pal thinks that Bitcoin will hit a new all-time high at latest by Q1 2021.
Featured Image from Shutterstock
Price tags: xbtusd, btcusd, btcusdt
Charts from TradingView.com
Key Bitcoin Price Fractal Predicts a $3,000 Correction Is Due