Bitcoin has settled into a consolidation range following its significant climb since the start of October. However, increasing sell pressure has many analysts calling for a sharp correction in the near term if $15k fails to hold.
Currently, the price of Bitcoin is down 1% in the last 24-hours to $15.3k.
Source: BTCUSDT on TradingView.com
On the other hand, U.S. stocks are booming. Record pre-market trading saw the Dow Jones open 5% up, while the S&P 500 benefited with a 3% gain.
Analysts have attributed this to the optimism brought about by news of Pzifer's successful vaccine trials.
Energy, travel, and financials, which were the sectors hardest hit by the panic situation, were among the big percentage gainers.
On that, Baird Market Strategist Michael Antonelli spoke about the subsiding of election uncertainty, in conjunction with the vaccine news, leading to a frenzy of buying activity in the U.S. stock markets.
"Election uncertainty is fading into the rearview mirror. Now we have this boost of investor enthusiasm after the vaccine news."
Vaccine Offers Hope For Return to Normality
The implications of a vaccine rollout hint at the return to normality. That is, no more lockdowns, the end of social distancing, and the freedom to be out in public without wearing a mask.
But mixed messages regarding this add to the uncertainty of the situation, which might possibly catalyze Bitcoin.
The BBC claims, despite the vaccine's imminent roll-out, time is needed to control the virus. Meanwhile, COVID measures will remain in place until authorities deem the virus under control.
"There is still the monumental challenge of manufacturing enough vaccine and actually getting it into people. It is all going to take time and we need something to control the virus until then."
Shapeshift CEO Erik Voorhees blasted the uncertainty. He believes authorities have little justification in enforcing coercive measures once a vaccine is rolled out.
Once a vaccine is widely available, lockdowns and mandates of all kinds should be immediately terminated.

High risk individuals can opt for vaccine, and anyone who accepts the COVID risk can do so.

Zero justification for coercion once vaccine is out.

— Erik Voorhees (@ErikVoorhees) November 9, 2020
Taking this into account, some would argue the vaccine driven stock market rally was a premature response.
Alts Boom While Bitcoin Takes a Breather
Safe-haven assets were the biggest losers of the day. Bitcoin mostly held its own, with just a 1% drop. But gold closed the day 5% down to $1,860 an ounce.
Nonetheless, as Bitcoin takes a breather, altcoins, which suffered a pummelling during BTC's five-week rally, are starting to see recovery.
A look at Bitcoin dominance sees a sharp correction from 66.4% dominance on Friday last week. Since then, dominance has been ranging from 65.0% to 64.8%.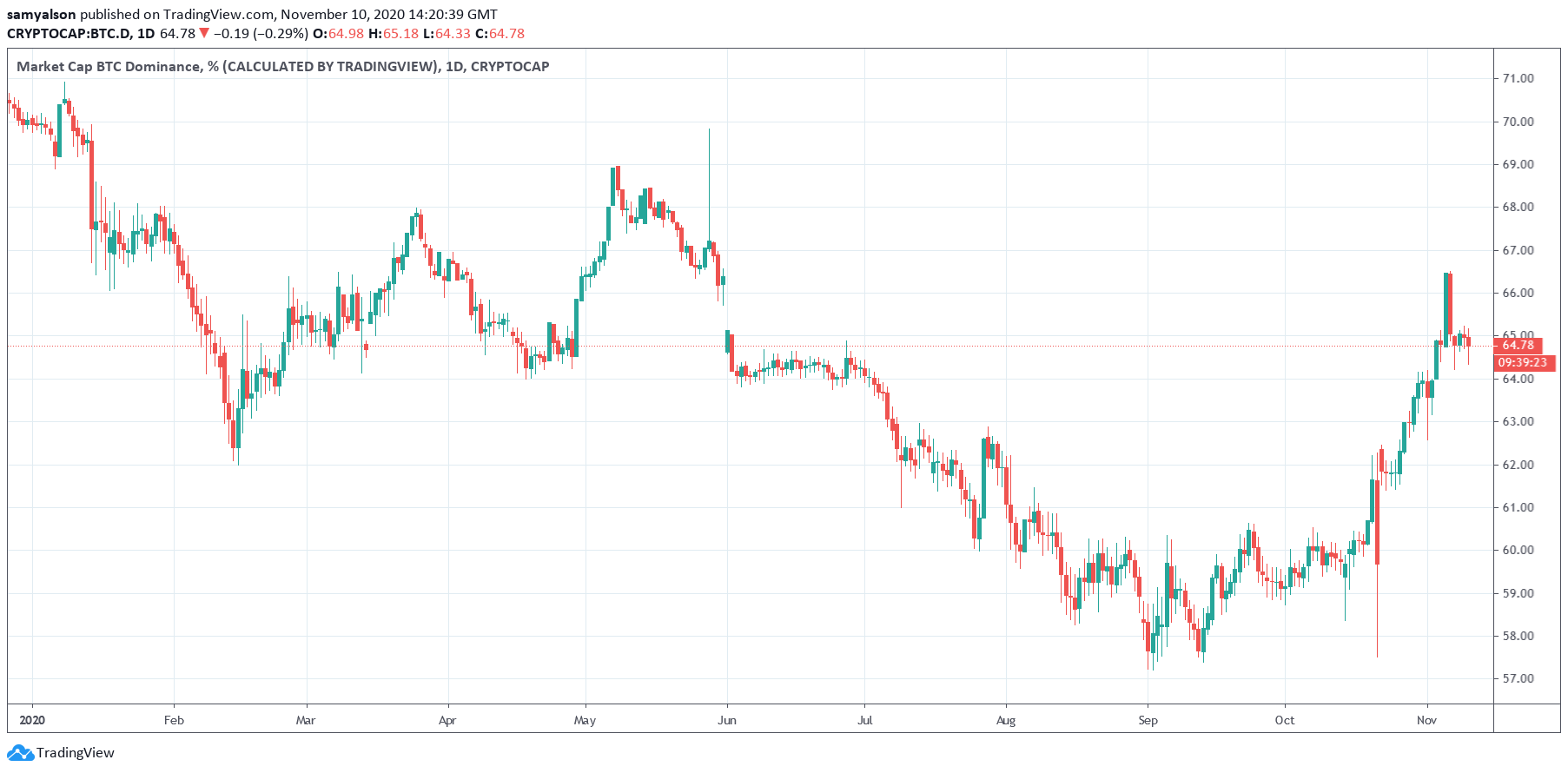 Source: BTC.D on TradingView.com
As a result, the top 100 tokens see some impressive gains over the last week. In particular, with several DeFi tokens posting notable gains.
But top performer, Civic, an identity verification token, leads the revival with a staggering 512% gain over the last week.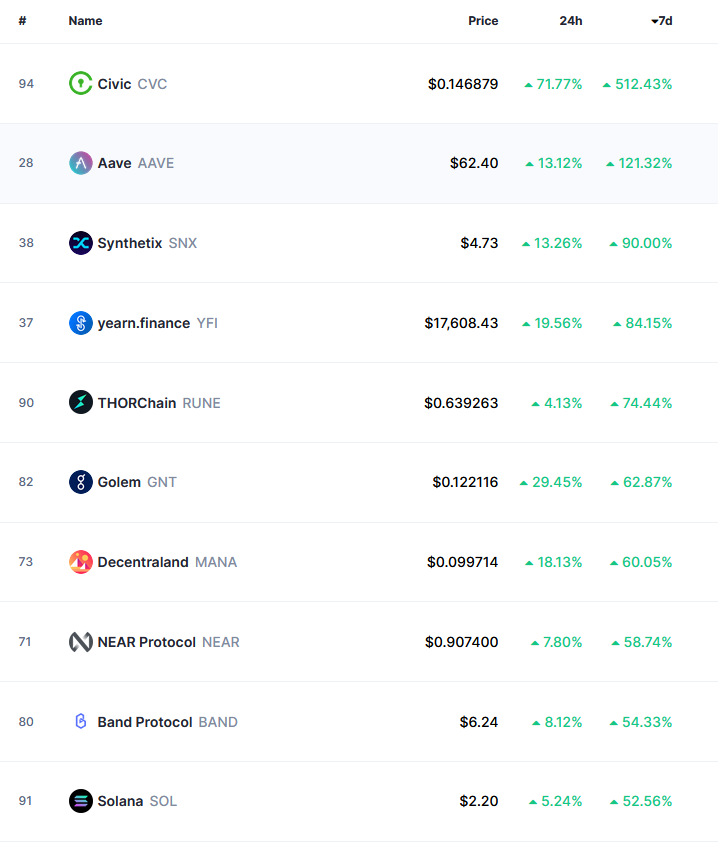 Source: coinmarketcap.com
With that, altcoin holders are praying for Bitcoin dominance to continue trending lower.