XRP has surged 10% higher in the past 24 hours as Bitcoin has begun to consolidate in the mid-$19,000s. The crypto market saw a strong surge higher seemingly as a result of new institutional inflows, which were previously absent as a result of the Thanksgiving holiday weekend.
BTC is up around 6% in the past 24 hours, having pushed to $19,500. The coin traded as high as $19,900 on some top exchanges, though there is some mispricing as a result of some discrepancies between futures and spot markets.
XRP is expected to move higher in the days ahead if Bitcoin continues its ascent. There are some divided over BTC's short-term prospects, though, as the coin faces extremely high funding rates on top futures platforms.
The XRP Outlook
Analysts are bullish on XRP as the coin manages to consolidate despite an extremely strong rally last week. XRP has begun to hold a key resistance level on a short-term basis, which an analyst says may precede a further rally to the upside.
The chart below shows this trend playing out. As can be seen, XRP is in the midst of consolidating above a crucial technical level in the near term.
Per the chart, there may not be much resistance until prices far above the current range.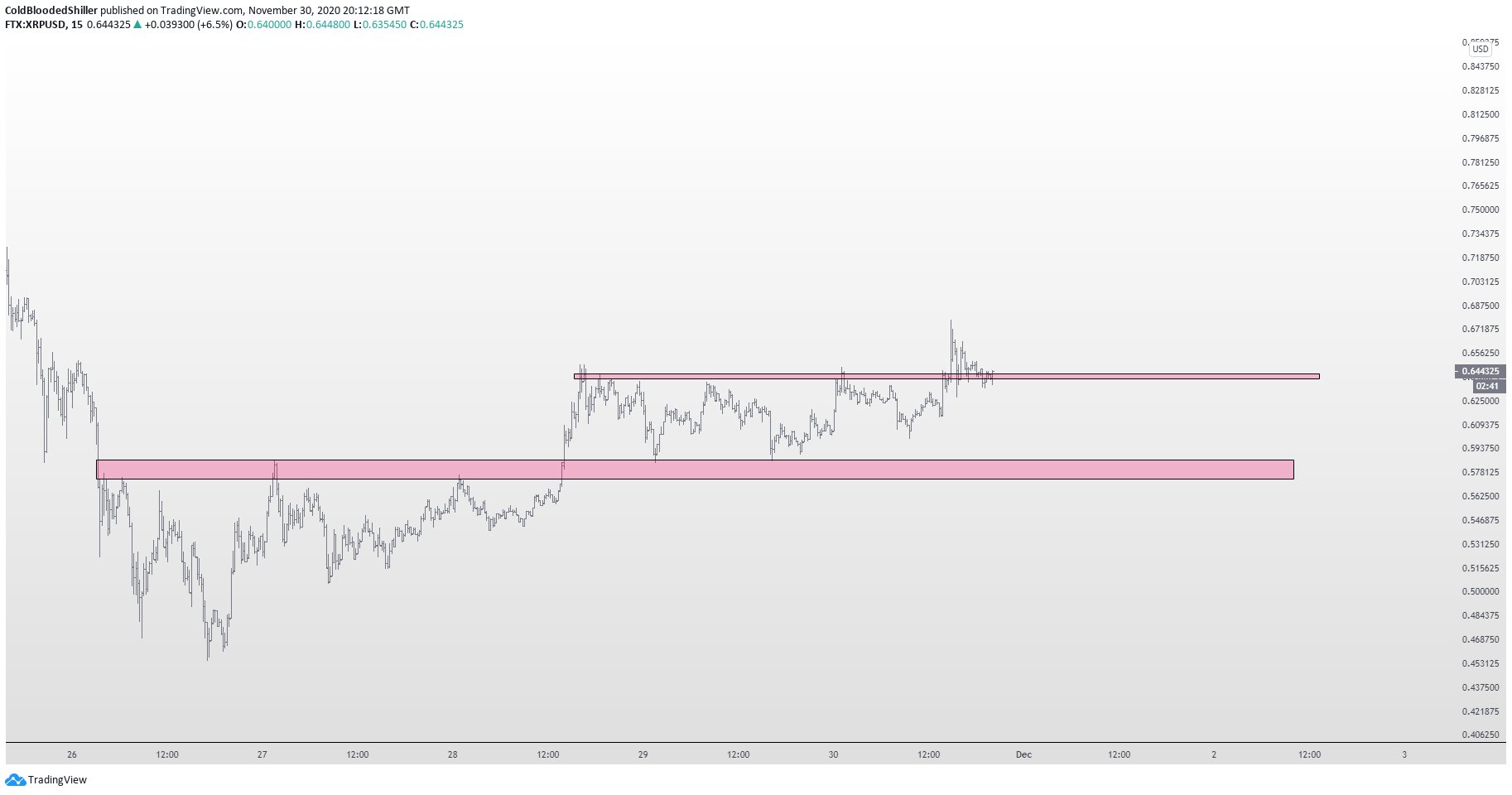 Chart of XRP's price action over the past week with an analysis by crypto trader Cold Blooded Shiller (@ColdBloodShill on Twitter).
Source: XRPUSD from TradingView.com
How Does Bitcoin Look?
XRP's performance is somewhat predicated on that of Bitcoin.
Analysts are mixed as Bitcoin has stalled under $20,000, though the fundamentals of the coin remain bullish. This should provide XRP with a boost moving forward.
Commenting on the drop last week, Willy Woo, a prominent on-chain analyst and technical analyst, said:
"Margin longs will be spanked until they go short. Was bullishness was way overheated. Exchange flows are neutral; spot sellers are matched with buyers. Fundamentals a great. The next few weeks? A great time to scoop cheap coins for 2021."
Analysts are also confident that institutional buying pressure will send Bitcoin skyrocketing soon enough.
Featured Image from Shutterstock
Price tags: xbtusd, btcusd, btcusdt
Charts from TradingView.com
XRP Continues Ascent With 10% Surge as Bitcoin Consolidates