Bitcoin faces the prospects of undergoing a massive downside correction as on-chain data shows a plunge in its over-the-counter deals.
According to data fetched by CryptoQuant, the total amount of Bitcoin tokens flowing out of Coinbase Pro's addresses to their newly-created custodial cold wallets has decreased ever since BTC/USD crossed above $23,000.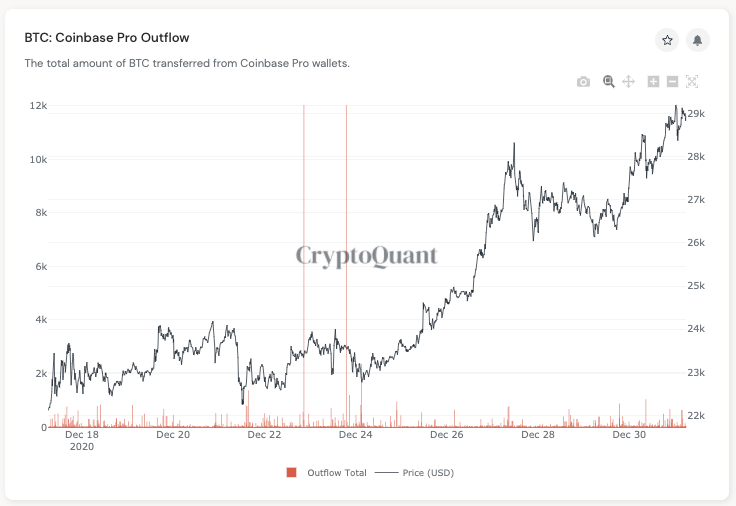 Coinbase Pro Bitcoin Outflow chart. Source: CryptoQuant
As CryptoQuant's CEO Ki-Young Ju noted earlier, these wallets hold Bitcoin for major crypto-enabled firms like Genesis Trading (which buys Bitcoin for Grayscale Investments, one of the largest crypto accumulators) and Ruffer Investment (which bought around $750 million worth of BTC last year).
That allows the data analytics portal to equate large BTC transfers from Coinbase Pro to new wallets as OTC transactions.
Retail Involvement High
The statements appeared as Bitcoin logged another all-time high on Thursday, hitting $29,321 ahead of New Year's eve. Its latest rally came on the backs of a devaluing US dollar and prospects of new institutional investments into the cryptocurrency space, especially after Skybridge Capital's big reveal that it holds Bitcoin worth $182 million.
The news also coincided with a recovery in stablecoin inflows into all cryptocurrency exchanges from their December 13 low. A CryptoQuant metric earlier this week showed that the total number of stablecoin counts increased from 20,000 (BTC price: $19,270) to 30,590 ($27,000).
Bitcoin rally pauses after hitting $29,000. Source: BTCUSD on TradingView.com
That showed that the rally to $29,000 was majorly retail-driven, which further increased Bitcoin's potential to correct lower in the coming sessions. Small and medium-capital traders tend to sell the cryptocurrency at its local top while investors with a long-term outlook use those dips to purchase it.
With OTC deals going down, it might be possible that institutions are waiting for the next Bitcoin correction to accumulate more of its units.
"We haven't had significant Coinbase outflows since $23k, tokens transferred is decreasing, and the fund flow ratio for all exchanges is increasing," explained Mr. Ju. "Still possible that institutional investors would join anytime soon, but we might face a correction if it continues like this."
The 2021 Bitcoin Forecast
Many analysts agree that Bitcoin's rally has become overheated enough to undergo a price correction. Nevertheless, that has not changed their perspective about a bullish 2021 ahead as long as the Federal Reserve stays on its indefinite monetary stimulus plans to aid the US economy through the coronavirus pandemic.
David Grider, the lead digital strategist at Fundstrat, said in a note that he expects the Bitcoin price to touch $40,000 within the next 12 months. He further noted that the cryptocurrency might face many bumps on its way upward, led by potential regulatory actions or mere profit-taking.
"We wouldn't view these events as long-term negatives for Bitcoin, but if such events unfold, they may negatively impact broader market sentiment and prices," Grider explained.